Your Health and Wellness Stay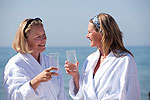 Due to the unique bioclimatic properties, Graal-Müritz received permanent recognition as a national costal health spa. The city offers rehabilitation and prophylactic treatment through a wide range of establishments like parent and child cures, rehabilitation centers and highly specialized treatment centers. The medical focus is on pulmonary diseases, cardio vascular diseases, orthopedic and rheumatic diseases, skin diseases, general debility, psychosomatic diseases and post-operative care for cancer patients.
Treatment Services:
Cardiovascular diseases
Pulmonary diseases
Skin diseases
Rehabilitation from accidents
Orthopedics and rheumatic diseases
General debility
Psychosomatic diseases
Diseases during childhood
Chronic infections
Post-operative care for cancer patients
Apart from our in-patient post-operative care and our rehabilitations programs, we also offer non-stationary rehabilitation and preventive health-spa treatments. Our services providers accept payment through health insurance or individual payments.
Supervising Health Spa Doctor "Badearzt"
Dr. Dirk Kühn
Kurstraße 5, 18181 Graal-Müritz
Phone 03 82 06 / 7 91 92
Tourismus- und Kur GmbH · Rostocker Straße 3 · 18181 Graal-Müritz · Phone +49 38206 7030
© 2013 ISuMA