Activities in Graal-Müritz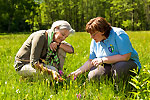 There is a wide range of recreational activities for all age groups in and around Graal-Müritz. During the summer, people value the clear water and the soft sand beaches and enjoy them while playing beach volleyball, swimming, surfing or taking a ride on a pedal boat. In any weather you can enjoy the Rhododendron Park, the pier and the Aquadrom with its sports, wellness and health facilities.
The "Haus des Gastes" offers a variety of cultural events ranging from exhibitions, concerts, comedy shows and readings. Additionally, creative arts and crafts courses are offered like meditative drawing and painting and work with soapstone.
The spa-administration organizes a variety of activities and tours in winter, spring and fall:
Themed local tours
Bike tours with guide
Nordic walking courses
Kite flying
Moore walking tours
In Graal-Müritz:
Sports and wellness center "Aquadrom" with general health and sports facilities
Four different Nordic walking tours
Fishing from the pier
Guided walking tours
Biking (bike rental service are locally available)
Horse back riding and carriage rides
Mini golf
Bowling
Pools and Sauna
Surfing, sailing and diving
Fitness center
Mini Baltic Sea cruise on the MS "Baltica"
Contact information for the individual activities can be acquired through the local phone book.